A GEM IN THE HEART OF WARWICKSHIRE…
Set in the heart of the glorious Warwickshire countryside Yew Tree Farm lies in between the historical and picturesque towns of Stratford-Upon-Avon and Henley-in-Arden.
A stylish and contemporary Shopping Village made up of 14 beautiful barns and Coffee Shop in an attractive Courtyard setting offering a wide range of unique quality products from around the world.
This stunning setting offers a great day out with historical attractions in the immediate vicinity offering opportunities to broaden your visit using Yew Tree farm as a base to return to.
The Cow Shed Coffee Shop and Eaterie offers indoor and outdoor seating, award winning coffee, alcoholic refreshments and home cooked, fresh food from a diverse menu.
The Farm Shop prides itself on its home baking and award winning produce, sourced locally where possible from artisan and small suppliers.
And then there's the shopping.
With 16 Commercial Units the Shopping Village offers a place to browse a 10,000 square foot Garden Furniture Showroom, Lifestyle Clothing Shop, Antiques, Luxury Lingerie, over 150 varieties of Tea from Around the World and a Farm Shop packed full of fresh goodies.
Along with this we offer a Gift Shop, a Chocolaterie and Chocolate Workshops, Hats for sale and hire along with a hairdresser as well.
Plan your visit today – you won't be disappointed
Visit Yew Tree Farm...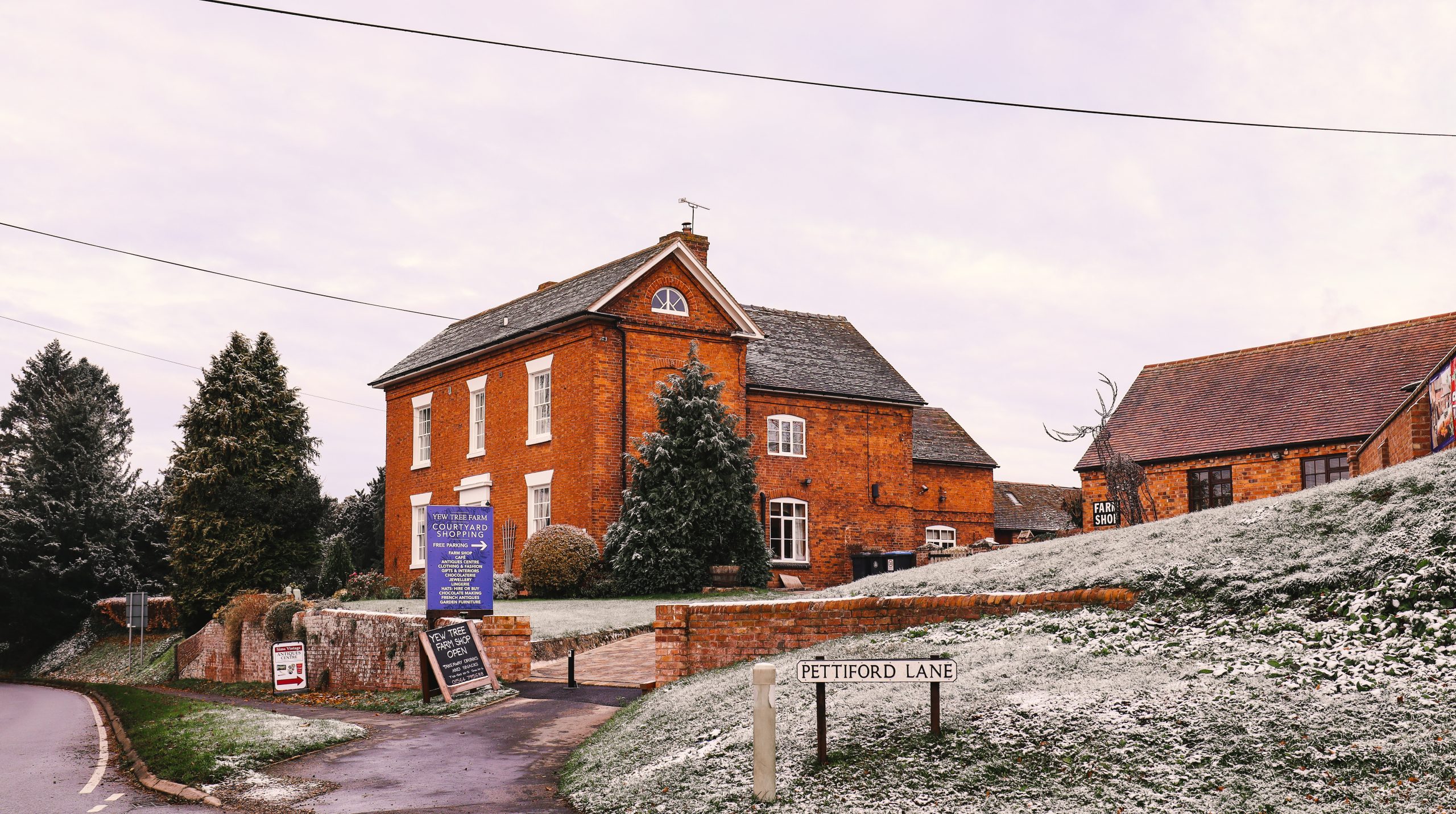 Come & Visit this historic courtyard shopping village! With so many shops to browse, a café, regular events & artistic workshops to take part in, you'll find yourself spending an enjoyable morning, afternoon or even day here!
Recent Frequently Asked Questions…
What is there to do?
EAT, DRINK, SHOP, MEET & GREET! Browse our Antiques shops, Large Gift Shop, Local Farm Shop, Local Artisans Shop, Garden Furniture Centre & Visit the Chocolate Shed. Then finish the visit with some food from the Cowshed eatery or some take-out from the Farm shop! Remember, we are situated right by Wootton Park,  Wootton Wawen Aqueduct & a short distance Hill Farm Marina.
How do i get to Yew Tree Farm?
Yew Tree Farm is easily accessible – you can reach us by car, bus, train, walking & even cycling!
Is there parking?
Yes, we have plenty of parking to the rear and easy access parking to the front. However, we do ask visitors to avoid parking in the courtyard if possible.
Are you dog friendly?
Of course! Where would we be without our friendly companions?… All dogs are welcome at Yew Tree, but please make sure they are well behaved & do not disturb the lambs in the field next to our car park.
Will there be enough seating?
YES! We'll have plenty of tables outside the café and in the courtyard for picnics! – Plenty of space for social distancing. Plus, you can always bring a picnic blanket and sit on the green to the left of the Garden Centre.
Are you wheelchair & stroller accessible?
Yes & No! We do our very best to accommodate for wheelchairs & strollers. However, Yew Tree Farm is an old courtyard with uneven ground in places. Having said this, we have lots of visitors using wheelchairs & strollers. Please take extra care when crossing the courtyard & please do not hesitate to ask for assistance from any of our units. Please note, we have both disabled & family parking spaces available onsite & a disabled toilet with baby changing facilities.
Do we need to wear masks?
If requested to so by our units, please adhere to the mask policy – each unit may differ. Please social distance where possible and use the sanitizing stations available.