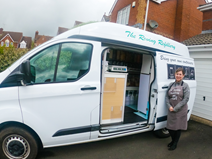 The Roving Refillery – Mobile Zero Waste Shop
I am super excited to announce I will be at Yew Tree Farm shopping village, Wootton Wawen this summer!
Please check the Facebook page for dates and times!
If you are unsure how this works, the concept is simple –
Weigh – Fill – Weigh – Pay
🌎 Have a look at the product list on my website –  www.therovingrefillery.co.uk
🌎 Decide what you need
🌎 Bring along your containers (don't worry if you haven't got any, I have got brown paper bags available to use)
🌎 I will fill them with as much or as little as you choose
All foods are sold loose, without packaging and are kept in clean, sealed food dispensers.
The toiletries and household products are kept in containers with a pump dispenser.
If you're unsure of what containers to bring, in true zero waste style, you can reuse anything you already have at home.
Instagram is full of perfectly laid out kitchens, with beautiful glass jars. This is not completely necessary.
For instance you can reuse coffee jars, ice cream tubs, takeaway boxes, spice jars, etc. Also hand soap pump dispensers are great for shampoo and conditioner …
I have got a select number of glass jars and spray bottles to purchase if you need them.
So come along, say Hello and familiarise yourself with the van. I can also take cash or card payments.
Looking forward to seeing you soon.